RF56SM-S5FJNE0 Snaigė Fresh INN
Fridge-freezers with freezer at bottom
FAST FREEZE
0° C FRESH ZONE
LED Lighting
BLACK INOX steel door surface
Dimensions (HxWxD): 1850 x 600 x 650 mm
Total capacity: 292 l

EAN: 4770104756948
Factory code:
RF56SM-S5FJNE0D91S4C5SN1X
Palyginti produktą
The elegant and handsome SNAIGĖ Fresh INN fridge-freezers will undoubtedly delight people who like healthy eating and delicious food. You will be able to store even more fresh food in these SNAIGĖ refrigerators. The crisper drawer is larger than usual, so you can comfortably store a lot of seasonal fruits and vegetables. In the 0°C FRESH ZONE, meat, fish and seafood will stay fresh for much longer. And if you want to freeze your garden harvest for the winter, there is a spacious freezer section at your service, with fast freeze options and a NO FROST or static cooling system.
0°C FRESH ZONE compartment
You will definitely like this elegant, transparent, spacious 0 °C FRESH ZONE compartment as it will insure longer freshness of meat, fish and sea products than in the fridge.
You could keep your products longer without losing their color, taste and nutrition value.
0 °C FRESH ZONE drawer is mounted on comfortable and easy to use telescopic railings. Even at an opening angle of 90° they can be pulled out and are removable. The drawer features a curved bottom for better air circulation.

How 0 °C FRESH ZONE works?
An extra vaporizer installed behind the 0°C FRESH ZONE area enables it to lower the temperature from -2 °C to +3 °С. It is set by regulating the temperature in the refrigerator compartment.
When the lowest temperature mode is set, the temperature of 0 ° C in the FRESH ZONE drawer may drop to -2 degrees. Conversely, when the minimum cooling in the refrigerator compartment is set, the temperature in the "0 ° C FRESH ZONE" compartment will be about 2 ° C.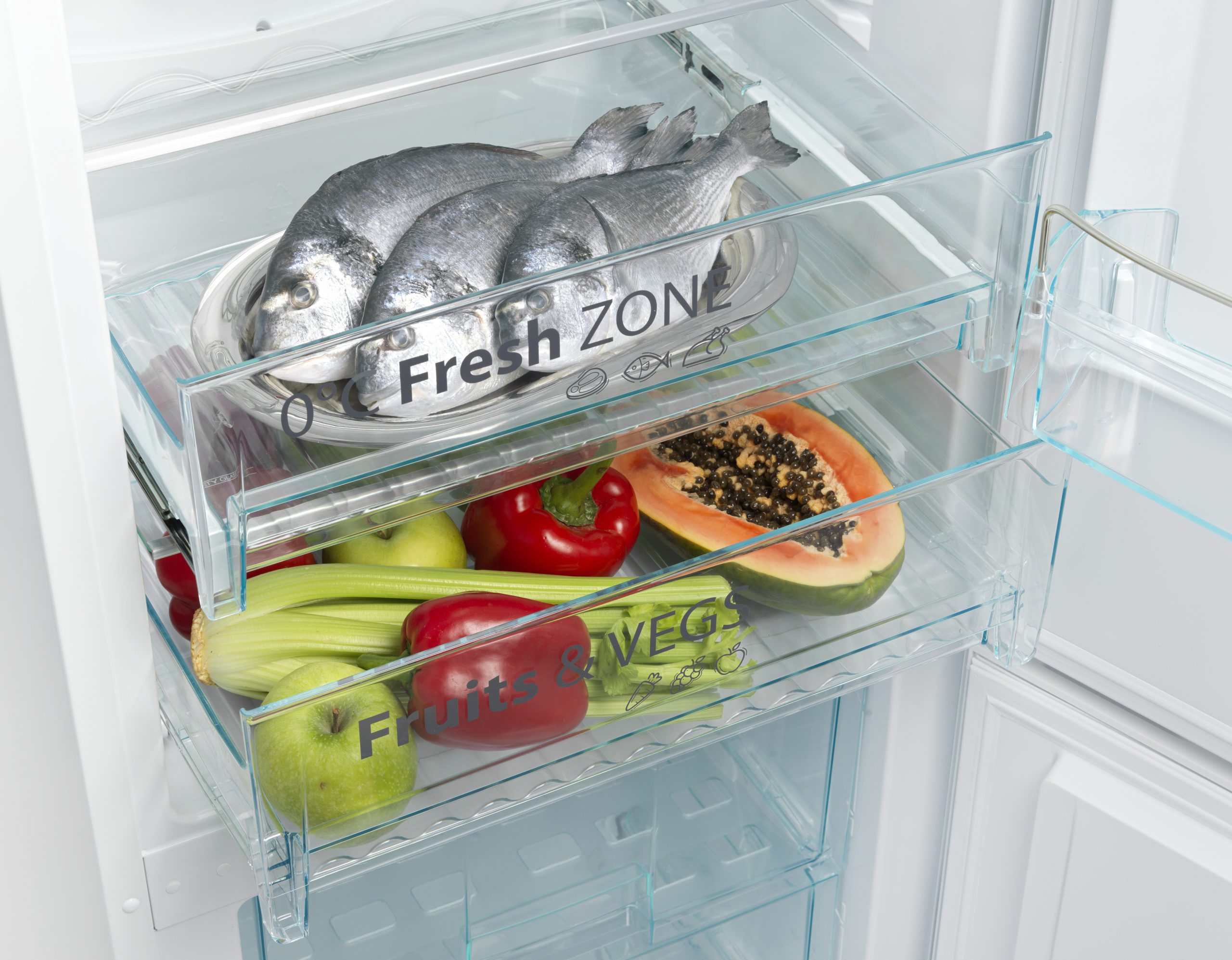 FAST FREEZE function
With the help of the FAST FREEZE function, you can freeze summer and autumn goodies fast and in a right way. Also you will quickly cool your drinks. When the FAST FREEZE function is activated, the temperature of the FAST FREEZE compartment will be automatically set to -24 ℃ and will switch off automatically when the products are frozen. At this temperature, the freezing process is fast and ice crystals do not form in the food product cells. In addition, this function does not allow the temperature of the frozen products to rise, so their nutrients, taste, color and nutritional value are optimally preserved.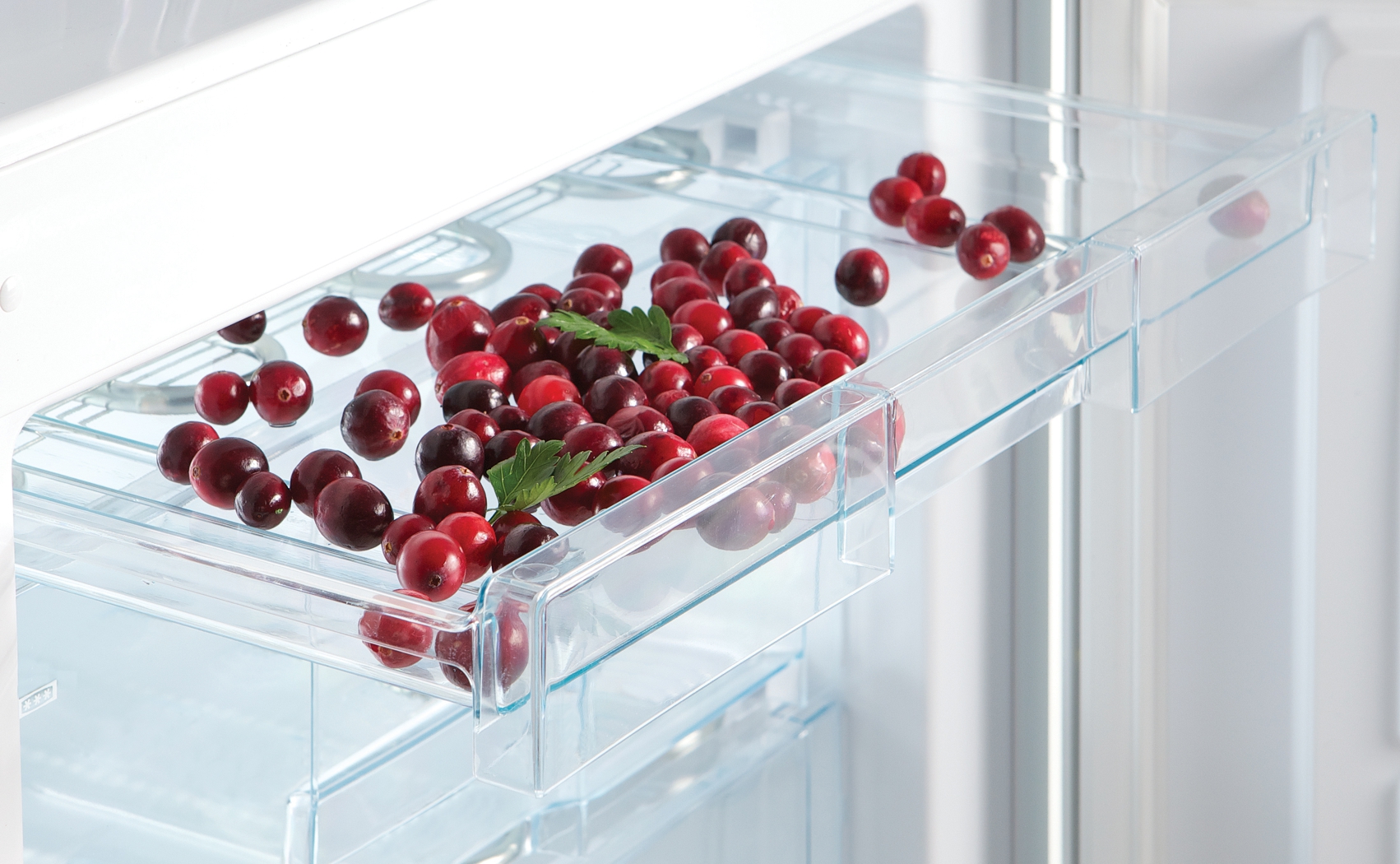 Section for small food products
The freezer compartment has an incredibly convenient compartment for freezing small or bulk foods, such as berries, dumplings and other small products. You can also use it to quickly make ice cubes for your cocktail party.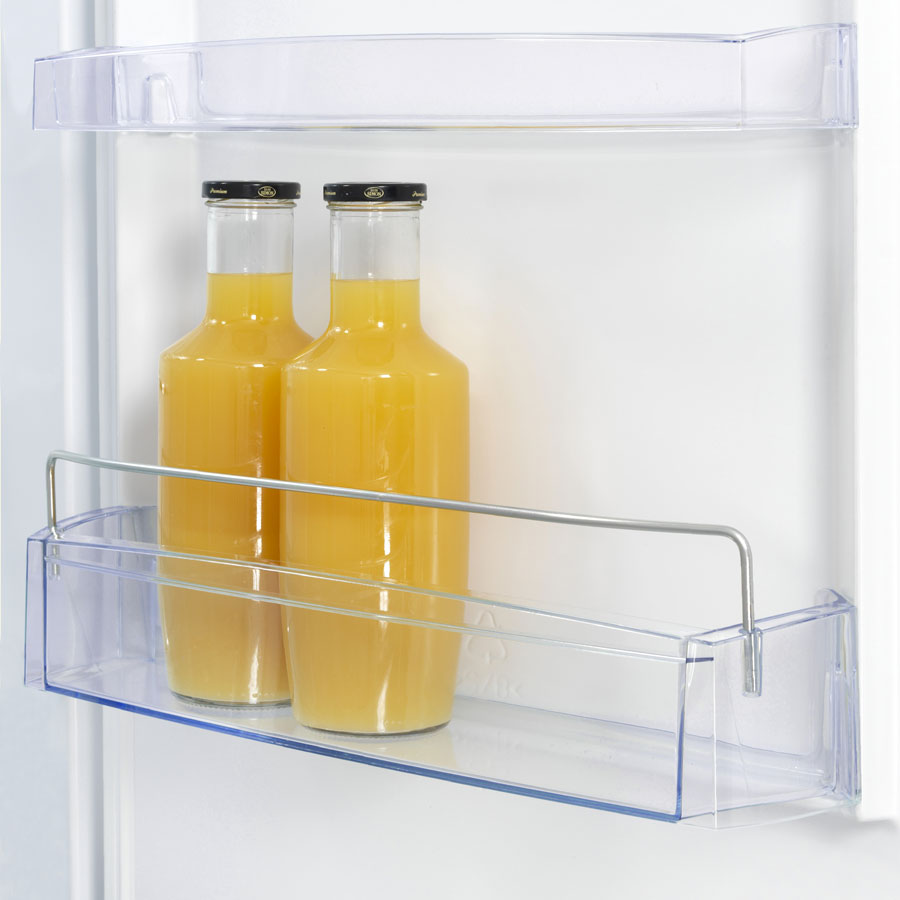 Reliable bottle shelf
The bottle shelf can accommodate different sized bottles at the same time. The bottle holder will secure them and prevent them from tipping over.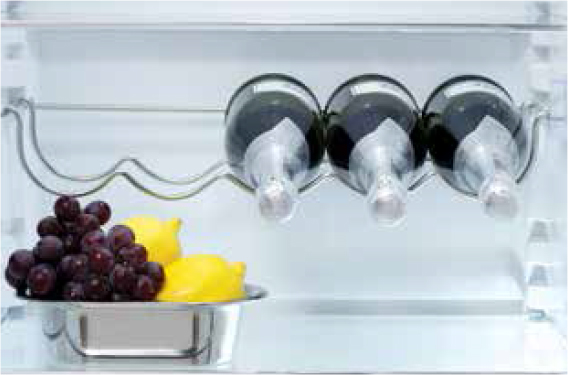 Extra large metal bottle rack
Extra large metal bottle rack The shelf can accommodate as many as five 1.5L bottles at a time. It can hold more than 10 kg. You'll save space and have an easier time keeping your refrigerator neat.
| | |
| --- | --- |
| Gross total. l | 292 |
| Net for fridge, l | 179 |
| Net for 0°C FRESH ZONE talpa, l | 21 |
| Net for freezer, l | 92 |
| Energy efficiency class | E |
| Energy consumption 24hr / kWh | 0.641 |
| Energy consumption year / kWh | 234 |
| Climate class | N |
| Freezing capacity | 12 |
| Autonomy Hour, Temp rising | 15 |
| Voltage | 220 - 230 V / 50Hz |
| Current | 1.0 |
| Noise Level | 41 |
| Net Weight, kg | 64 |
| Gross Weight, kg | 69 |
| Net Case size (HxWXl)) | 1900 x 620 x 640 |
Refrigerator features
Automatic defrost system
2 adjustable tempered glass shelves
Tempered glass shelf above the crisper drawer
Tempered glass shelf above 0° C FRESH ZONE drawer
Bottle shelf
Crisper drawer
Egg holder (6 eggs)
Doors features
Shelf with lid
1 adjustable shelf
Deep shelf for bottles
Anti-tip bottle holder
Freezer features
Manual defrosting
Drawer for small food products
FAST FREEZE drawer
2 drawers for frozen products
Door opens to the right/reversible
Adjustable legs at front
Wheels at back